This month, the same three publishers top the Australian Podcast Ranker, including ARN/iHeartMedia, LiSTNR (SCA) and Audioboom.
Also, the same top three podcasts remain in both the Top 100 Ranker and Top 100 All-Australian Ranker, including Hamish & Andy (LiSTNR – SCA), Casefile True Crime (Audioboom) and Life Uncut with Brittany Hockley and Laura Byrne (ARN/iHeartMedia).
There have been several debuts for the Top 100 Ranker including The Chaser Report (Acast), Drive with Tom Elliot (Nine Radio) and RedHanded (Audioboom)
Click the charts to pop out a larger version or view the pdf file at AUS Ranker Sept 2021.
Some of the debuts for the Top 100 All-Australian Ranker are, Toni and Ryan (ARN/iHeartMedia), Everybody Knows (Schwartz Media), The Goss (Podshape) and more.
Total downloads of all shows by all participating publishers in the month of September is 52M.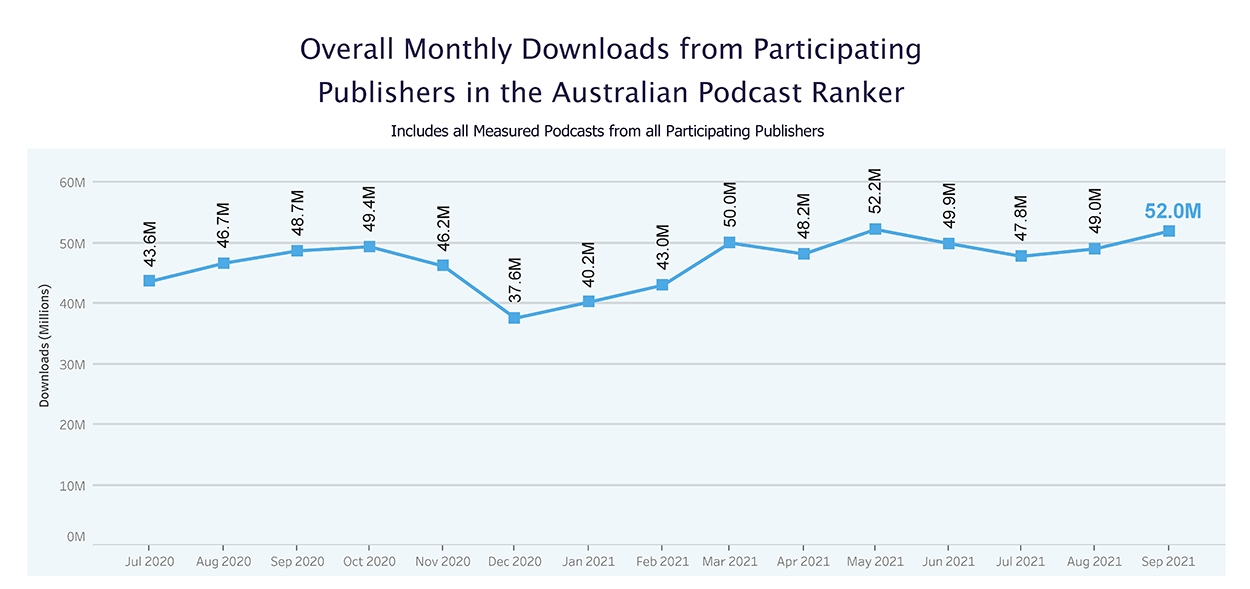 Participating publishers in the Australian Ranker include Audioboom, ARN/iHeartMedia, DM Podcasts, Equity Mates Media, Hidden Brain Media, Kinderling Kids Radio, LiSTNR (SCA), News Corp Australia, Nine, NOVA Entertainment, Podshape, Schwartz Media, Sports Entertainment Network (SEN), Stitcher Media, TOFOP Productions, The Chaser, Wavelength Creative and West Australian Newspapers.
The ABC is not included in the Australian Ranker and thne Australian ranker does not include podcast listens from outside of Australia, which, for some podcasts have been reported to be more than half of that podcaster's total listening. The ranker's major purpose is to guide Australian advertisers in buying inventory on these podcasts, so the fact that the ABC is not listed and that there is additional listening outside Australia is not a major problem for what the ranker is aiming to achieve.
THE SPIN