Our network and cities analysis of radio ratings survey 3.
See also: Raw figures, Spin, Digital Results, Cumes
Networks
Nova Entertainment
It was a great day for the NovaEnt folks as seven out of their eight metro stations gained audience share. Nova has a grip on the number one spot in both Brisbane and Perth while they can claim number one FM for smooth in Sydney.
Even their one talk station, FIVEaa, in Adelaide gained ground to stay in double figures in a very competitive market.
The only station to lose ground was smooth 91.5 in Melbourne, down -0.8 for a 7.6 share, which puts it in a rare position of being behind its stablemate, Nova 100 and an unaccustomed 6th place in the market. It also puts the station 3.2 share points adrift of its Sydney brand-brother smooth 95.3 which was up +1.5 for a 10.8 share and an outright #2 in that market.
ARN
Although more of their stations went down than up, ARN are still able to claim to be "the number one network with a 17.7% share (excluding DAB) and the number one network for all key demographics." In share, of course.
Indeed, the stats are impressive and, perhaps more importantly, consistent. The network's biggest variance from Survey 2 was a gain of +0.9 for KIIS101.1 and with its breakfast show up 1.8 for a very respectable 7.4 share, the highest since Jase and PJ took over the show 3 years ago. Of course, it could be just another case of the survey gods having a bit of a laugh as PJ has left the show and returned to NZ to get married.
Proving once again that it's all about the content and not about the platform, ARN's two AM stations, the venerable 4KQ in Brisbane and CRUISE1323 in Adelaide, running a pure gold formats, managed to return double digit shares to be #1 AM and well up the ladder overall in their respective markets.
SCA
Not a lot to celebrate today for SCA. Perhaps their best result was in Melbourne where 101.9 FOX appears to be clawing back some of the losses of recent surveys to keep itself ahead of the FM peloton with a 7.8 share, lined up behind GOLD104.3 sitting on 11.1. Adelaide's 5MMM turned in a good +0.8 gain and Brisbane's Triple M was solid on a 10.2 share and in third place overall.
All of SCA's other stations lost ground and the two new breakfast shows with high profile talent such as Marty Sheargold on Triple M, Melbourne and Hughesy on Sydney's 2DayFM have yet to fire.
Nine Radio

There's no skirting around the fact that 2GB, post COVID and post Alan Jones has come back to earth with a thud returning an 11.7 share. Yet it retains its #1 status in Sydney but only 0.9 ahead of second place smoothfm. Meanwhile, Ben Fordham, despite plummeting -2.0, managed to land on a 13.5 share for Breakfast – well above the station average and more than the notional 12 share management were hoping for him to achieve after Jones left.

In Melbourne, too, 3AW has given back some of the audience it reaped during the pandemic but on a heady 15.6 share it remains well ahead of its nearest rival.

4BC, in Brisbane, has a welcome gain to take it to a 6.4 share while Perth's 6PR enjoys a 9.5.
ABC Local

Apart from the heavy loss in audience share (-1.7) in Sydney and a small drop (-10.5) in Adelaide, Survey 3 wasn't a bad outing for Aunty with every other market gaining ground.

triple j

As much as the ABC "oldies" station was down -1.7 in Sydney, its "youth" arm was up +1.6. After that it was all swings, no roundabouts with the youth networks with the network shedding audience share in every market.

Cities
There were no significant covid lockdowns in any city during this survey.
Sydney
2GB and ABC Sydney had the biggest falls this survey, while triple j and smooth scored the biggest gains.
2GB retained top spot, but lost its edge, falling 1.7 share points to 11.7% overall. Breakfast dropped by 2 share points and all shifts lost ground this survey
smooth fm jumped into second place, up 1.5 to 10.8%
ABC Sydney slipped into third place, down 1.7 to 10.1% overall. At work shifts dropped most for ABC Sydney this survey.
Fourth placed KIIS gained 0.7 to 9.6%
triple j moved into fifth place, up 1.6 to 7.1%
2GB's Ben Fordham won breakfast again, exactly one year since her took ove rthne shift from Alan Jones, but the show dropped 2 share points this survey. ABC Sydney is within striking distance of the top breakfast show, just 0.4 behind 2GB. Third placed breakfast show (top fm breakfast) is Kyle and Jackie O, jumping 2 share points, less than one share point below the top two breakfast shifts in the market.
2GB won mornings, smooth won afternoons and drive, pushing ABC Sydney's drive show into second place in that timeslot. 2GB won evenings and weekends.
Nova won the 10-17 demographic, KIIS won 18-39s, smoth won all the 40-64 demographics, 2GB won the over 65s.
Melbourne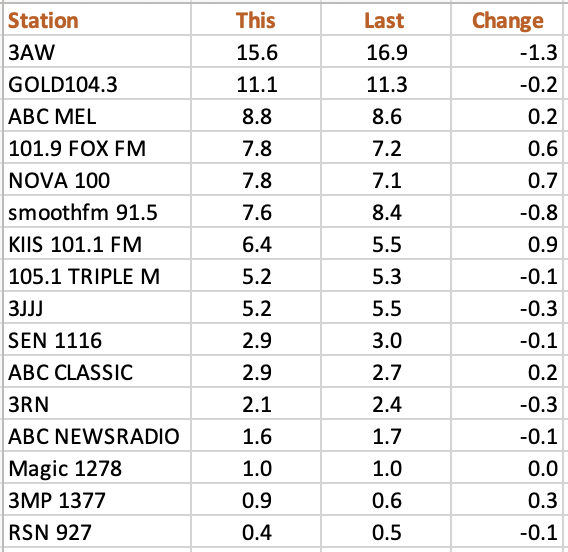 3AW had the biggest fall this survey, while KIIS had the biggest rise in a fairly steady survey for the Melbourne market.
3AW easily retained its top position despite its drop of 1.3 share points to 15.6% overall
Second placed Gold FM lost 0.2 to 11.1%, still easily ahead of the rest of the pack
Third placed ABC Melbourne gained 0.2 to 8.8%
Fox and Nova were equal fourth place on 7.8%, fox gaining 0.6 and Nova gaining 0.7
smooth fell into fifth position, losing 0.8 to 7.6%
3AW's Ross and Russel breakfast show fell, but held easily to the top breakfast position, well ahead of second placed Sammy J on ABC Melbourne. Christian O'Connell, who launches his new book today, was third breakfast shift, equal with Nova's Chrissy, Sam and Brownie.
3AW won mornings, Gold won afternoons, 3AW won drive, evenings and weekends.
Nova won the 10-24 demos, Fox won 25-39s, Gold won 40-54s, 3AW won all the over 55 listeners.
Brisbane
Nova and Classic FM had the biggest rises this survey, while B105 had the greatest fall. Indicating what a close race the Brisbane market is at the moment, several leading stations swapped places again.
Nova gained fractionally to grab top position, up 0.5 to 11.1%
Second placed 4KQ lost 0.7 to 10.3%
Triple M moved into third spot, up 0.2 to 10.2%
Previous market leader B105 tumbled into fourth position, down 1.2 to 9.9%
Fifth placed 97.3FM lost 0.4 to 9.8%
Nova's Ash, Kip & Luttsy with Susie O'Neill won the breakfast timeslot ahead of AM stations 4KQ and ABC Brisbane.
Triple M won mornings and drive, B105 won afternoons, 4BC won evenings, 4KQ won weekends
Adelaide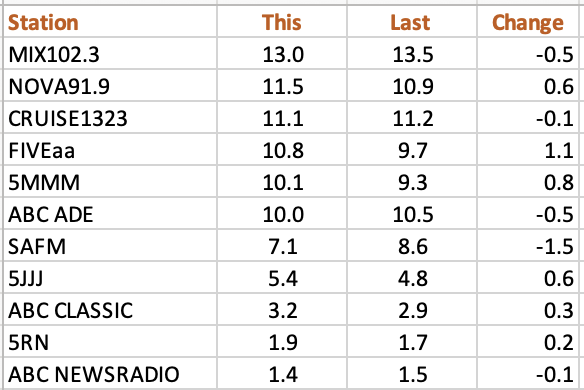 SAFM had the biggest fall and FIVEaa had the biggest rise this survey.
Top station Mix lost 0.5 to 13.0%
Nova rose to second place, up 0.6 to 11.5%
Third placed Cruise dropped 0.1 to 11.1%
Fourth placed FIVEaa gained 1.1 to 10.8%
Triple M was fifth, up 0.8 to 10.1%
Perth
ACB Perth had the biggest gain this survey, while Mix dropped the most, but still less than one share point.
Top station Nova increased its lead by 0.2 to 13.5%
Second placed Mix dropped 0.7 to 11.9%
96fm was third, up 0.4 to 11.1%
Fourth placed 6PR gained 0.2 to 9.5%
Fifth placed triple j slipped 0.3 to 8.8%
---
Subscribe to the radioinfo podcast on these platforms: Acast, Apple iTunes Podcasts, Podtail, Spotify, Google Podcasts, TuneIn, or wherever you get your podcasts.