In a session at the Digital Broadcasting Symposium today, titled Embracing Digital Change – Strategies and Results, CRA chief executive Joan Warner looked back over the 16 months since the start of the pandemic
.
She focused on Australia and the business strategies that have helped the radio industry move forward during this time

The pandemic has brought "fundamental changes to the economy and the media sector," including "a massive acceleration in the adoption of digital services."

The focus on digital "has seen advertising dollars continue to shift away from so-called traditional media to social and online," according to Warner, with a severe impact on local media resulting in "consolidation, cost-cutting and closures across the media sector last year, particularly in magazines, regional tv and regional print media."

Radio was not immune either, with metropolitan radio ad revenue down 28% year on year in the September quarter 2020, but improving in the December quarter with "further recovery expected through 2021."

While the radio industry has "gone through tough times, it's important to remember that radio remains one of the most successful mediums at reaching and engaging listeners."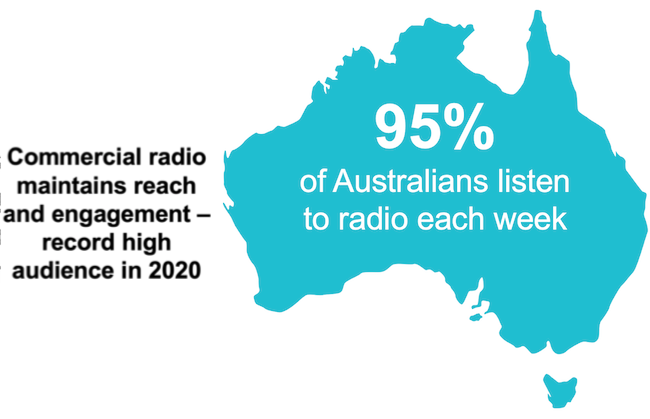 The Australian government supported radio by temporarily waiving fees and "using radio and tv for its covid information and vaccination rollout campaigns, with up to 18% of marketing expenditure on radio," according to Warner.

"Radio's move to becoming a truly multiplatform business has been key to not only retaining but growing our audiences," said Warner, with audiences now able to access radio anywhere, any time on any device.

Australia's industry-owned radioapp allows people to listen to 400 stations, including dab+ stations, using a smartphone or smart speaker, a strategy which has delivered strong results through the pandemic, as many listeners switched from listening in the car to working and listening at home.

in the December quarter there was:
a 25% yoy increase in smart phone listening
a 27% lift in those listening to radio via PCs and tablets
a 15% rise in listeners to DAB+ only stations
a 58% jump in listeners via smart speakers

"Partnerships with Google and Amazon Alexa to integrate Radioapp into smart speakers means listeners can now simply ask their voice assistants to play a radio station by name. Before these partnerships, the radio function only worked correctly 40% of the time when users requested a station."

Around 700,000 Google smart speakers are being used to listen to radio in Australia each month.

The radio industry has also invested heavily in podcasting. "We don't see podcasting as a competitor to radio but as a complementary platform and new revenue source," said Warner, citing catch-up radio and original podcasts as new sources of listenership and revenue.

Highlights from the Australian Podcast Ranker include:
Publishers in the ranker delivered more than 2,600 podcasts in 2020, that were downloaded 420 million times.
Radio show catch-ups were the most popular category in the country, accounting for more than 100 million downloads
The number of unique devices used to listen to podcasts has increased from 1.8 million when the ranker first launched to 3.3 million by the end of 2020.

Two important initiatives are now under way to make radio more attractive for advertisers, the development of an industry-wide ad buying platform, called Radiomatrix, and the measurement innovation program, which will enhance the radio ratings system.

"Through Radiomatrix, buyers can easily connect with every commercial radio station on one powerful platform… which will integrate official audience data, and collaborate on campaigns with radio networks in a cloud-based digital workspace."

Radio's business strategy is focused on a total audio approach that improves the experience for both consumers and advertisers, "maintaining the scale, mass reach and reliability of broadcast radio and improving the customer experience."

"The competition has never been more intense but there is growing excitement around the future of audio," said Warner.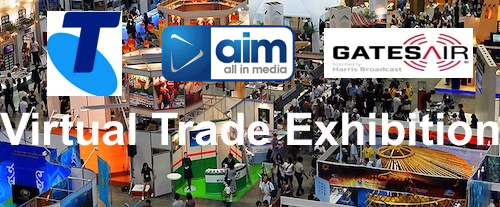 ---
Subscribe to the radioinfo podcast on these platforms: Acast, Apple iTunes Podcasts, Podtail, Spotify, Google Podcasts, TuneIn, or wherever you get your podcasts.