Keith McGowan profiles 3SRFM breakfast co-host Greg Evans. Melbourne's most sought after Marriage Celebrant is the man who will forever be known as the host of Perfect Match, the hit 10 Network TV show from the '80's. A far more popular choice than even the local Elvis impersonator, Greg Evans, loves his work.
Few would know, however, that before all that, in 1972 he was 2KA's breakfast announcer (below left). It was such a tiny whistle stop in his expansive career, he doesn't even acknowledge it on his own CV. But we know. We were there as witnesses. I was his PD and Peter Saxon, the editor of this site, shared a house with him, deep in a valley in Cascade Street, Katoomba.
Saxon who did Afternoons on the station says Greg was a serious ladies man, "Ladies and others of various virtue took an instant shine to Greg. It was clear even then that he possessed a talent made for television.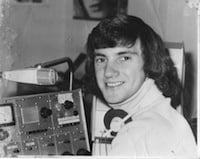 "He always put in the effort. After promotional duties at a shopping centre in Penrith, he would drive the 47 kms back up the mountain to Katoomba arriving home well after midnight.
"No matter how late, he'd still put in his hour and a half of prep to do breakfast that morning. His hair was always perfect, even at 5 am. He had the stamina of Phar Lap," says Saxon.
At least two times a week Greg would sleep through his alarm clock, and as I was the Program Manager the PMG (Post Master General) would ring me to let me know the "transmitter hasn't been turned on yet."
I would then drive to Greg's home and throw stones down onto the tin roof to wake him up and get him to the studio.
Greg, Peter and I were part of a team put into the Blue Mountains by Rod Muir's Digamae, a company that turned mediocre radio stations into ratings winners and changed DJ's names. Phil Raulstrum became Jack Daniels. Sam Wass became Mike West, for example.
2KA later moved down the mountain to Penrith and for a while was owned by Mike Walsh who coincidentally gave Evans his first real TV break through regular appearances on his hugely popular Midday Show on Channel Nine. 2KA was eventually bought by ARN which now operates it on the FM band as The Edge 96.1.
Since weddings are not normally scheduled between 6 am and 9 am Mon – Fri, Greg Evans is free to perform a breakfast shift on 3SRFM, Shepparton. Now into his fourth year at the station, I'm pleased to report he's yet to be late for a shift. These days he just walks from one room to another in his mother's home in picturesque Bonnie Doon, Central Victoria, to do the program.
Thelma Evans is 96 and can't manage without a lot of help. Greg, an only child, has devoted his life to his Mum's wellbeing. He told me "Mum needed someone with her, so I moved to Bonnie Doon to look after her, coming back to Melbourne at weekends for my Marriage Celebrant bookings.
When someone told someone who told someone at 3SRFM I was in Bonnie Doon, I was asked if I'd consider doing the Breakfast shift from a studio in Mum's place, I said I would. And it has been good."
Saxon comments, "Greg Evans will forever be known Australia-wide as the host of Perfect Match on Channel 10. From 1984 to 1986 he was at the pinnacle of the television career he always wanted for himself. During that period he won a Logie for the show and received three Gold Logie nominations for himself. In 1985 he even hosted the Logies.
It all started to unravel, though, when he was lured to Channel Nine by its legendry boss and shrewd negotiator Sam Chisolm. They got him to do a dog of a show called Say G'Day and then another thing called Crossfire. It seems that Nine was more interested in getting Evans off Ten than providing him with a decent vehicle at their own network.
Although he's maintained a presence on TV over the years, Greg's career was never the same after Nine finished warehousing him," says Saxon.
I suggested to Greg that 3SRFM was a little "small time" after his years as a National TV Star on the Mike Walsh show and Perfect Match, his seven years (28 surveys) number one on 3XY Drive, and successes at 3MP, Gold FM, and with Sam Newman as the "B" team on 3AW Breakfast. But he assured me, "I work as hard on this as I ever have worked, I take it seriously and I enjoy it very much, otherwise I wouldn't do it."
His idea to become a Wedding Celebrant came about when Kevin "Bloody" Wilson asked him to act at his daughter Tanya's "wedding" in Perth.
Tanya had already been married weeks earlier in Nashville but a second ceremony was organised for Australian family and friends. Greg recalls "I looked at these two young people and thought just how good is this! It's something I would like to do in the future, so I went through the course, graduated and became a legal marriage celebrant."
Then there's the Caravan, the four wheel drive and the motorbike, the big boys' toys that don't get used anywhere near enough. Greg looks to the day when he can hitch the caravan to the SUV and head off.
At 60 years of age the winner of every King Of Pop Disk Jockey award handed out between 1975 and 81 along with three Gold Logie nominations and a host of other citations, Greg is still the same ambitious and determined man I met back in 1972.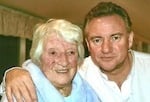 The successful career of Greg Evans has not surprised me, and I guess not his housemate in Katoomba either. Greg and Sue's son Jason is a Vet and his daughter Jodie a secondary school teacher. They have done well – which means Greg doesn't have to worry about his kids. They are okay. But he does worry about his Mum. A lot.
By Keith McGowan with additional reporting by Peter Saxon