With seeming disregard for any bridges that may get burnt in the process, Meshel Laurie, who starts her new breakfast show with Matt Tilley on KIIS in Melbourne this morning, took to facebook and Twitter to fire a broadside at her former station, Nova100.
In a withering attack, Meshel stated: After 13 years with the Nova radio network, during which I was part of 3 number 1 shows including National drive, and then treated like a disposable dish rag and a fool, I start a new job tomorrow at KIIS FM 101.1. My nerves are soothed by the fact that all the best people from Nova are now there too and I'm beyond grateful to them for judging me worthy of a spot on the team.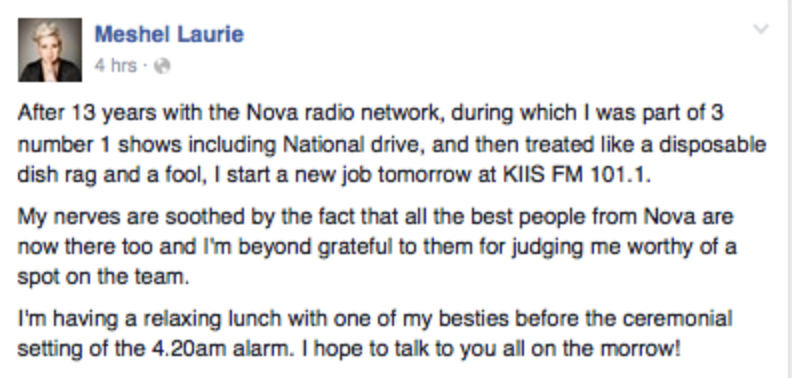 Nova's chief operating officer Louise Higgins said: "From Nova Entertainment's perspective Meshel is an outstanding broadcaster and we very much wish her all the best for her new breakfast at Kiis."
Higgins told radioinfo: "She had an outstanding 13 years with us. I think 13 years broadcasting for one company is an extraordinarily good run. It is a sign of the extraordinary good will and good working relationship we had with her and as she describes it, to win in three timeslots."
Meanwhile ARN has been busy promoting their new shows on social media with a set of videos to familiarise listeners with Jo & Lehmo on GOLD as well as this video for Matt and Meshel on KIIS.
Matt and Meshel's brand spanking new show kicks off tomorrow from 6am. Catch you then x

Posted by KIIS 101.1 on Saturday, January 16, 2016