Radio ratings survey 2 results have been released.
9 out of 10 SCA stations rise, all but Triple M Adelaide
Hit stations all up, with good gains for 2Day and Fox
Most talk stations are dropping, except 2GB
Most music stations are steady or rising, except triple j, which has fallen in most markets
triple j fell in some markets, reflecting the end of the Hottest 100, but perhaps also the rise of CADA
The survey was conducted by GfK for Commercial Radio Australia between Sun Feb 6 to Sat Feb 26 & Sun Feb 27 to Sat Apr 2, 2-22, with most covid restrictions lifted in all cities.
Previous survey results here.
Data charts below the raw figures, click the charts to enlarge them.
Results
Sydney
2Day had the biggest rise, up 0.9 to 5.1%, and most other music stations also rose
Triple j had the biggest fall, dropping 2 share points to 5.3% overall, ABC Sydney also fell, down 1.3
On DAB+, Edge Digital, now known as CADA, jumped into top position with an audience of 103,000 people (cume), growing 19,000 since its relaunch
KIIS 90s was second on DAB+, followed by smooth relax and ABC Jazz
Top station 2GB rose 0.5 to 14.3%
KIIS moved into second place, up 0.8 to 9.6%
Third placed WSFM was steady on 8.4%
2GB won breakfast ahead of KIIS in second place for that shift
Demographics: KIIS dominated the younger demos, winning 10-39s, WSFM won 40-54s, 2GB won the over 55s
Melbourne
Fox had the biggest rise, up 1.8 to 9.6%, and most other music stations also rose
3AW (down 0.8) and Triple j (down 0.7) had the biggest falls
On DAB+, Edge Digital, now known as CADA, doubled its audience.
The top DAB+ station was TikTok Trending, followed by then Triple J Unearthed and ABC Jazz
Top station 3AW dropped by 0.8 to 15.1%
Second placed Gold dropped 0.1 to 11.4%
Fox jumped into third position, up 1.8 to 9.6%
3AW won breakfast ahead of Gold in second place for that shift
Demographics: Fox won 10-17s, triple j won 18-24s, Fox won 25-39s, Gold won 40-54s, 3AW won the over 55s
Brisbane
B105 had the biggest rise, up 1 share point to 10%
4BC had the biggest fall, down 1.3 to 6.9%
On DAB+, Edge Digital, now known as CADA, doubled its small audience to 5000 listeners
The top DAB+ station was 97.3's 80s station (now known as KIIS 97.3)
Top station Nova dropped by 0.2 to 10.6%
B105 jumped into second place, up 1 share point to 10%
Third placed ABC Brisbane gained 0.3 to 9.6%
ABC Brisbane won breakfast ahead of B105 and Nova
Demographics: Nova won 10-24s, B105 won 25-39s, Triple M won 40-54s, 4KQ won 55-64s and ABC Brisbane won the over 65s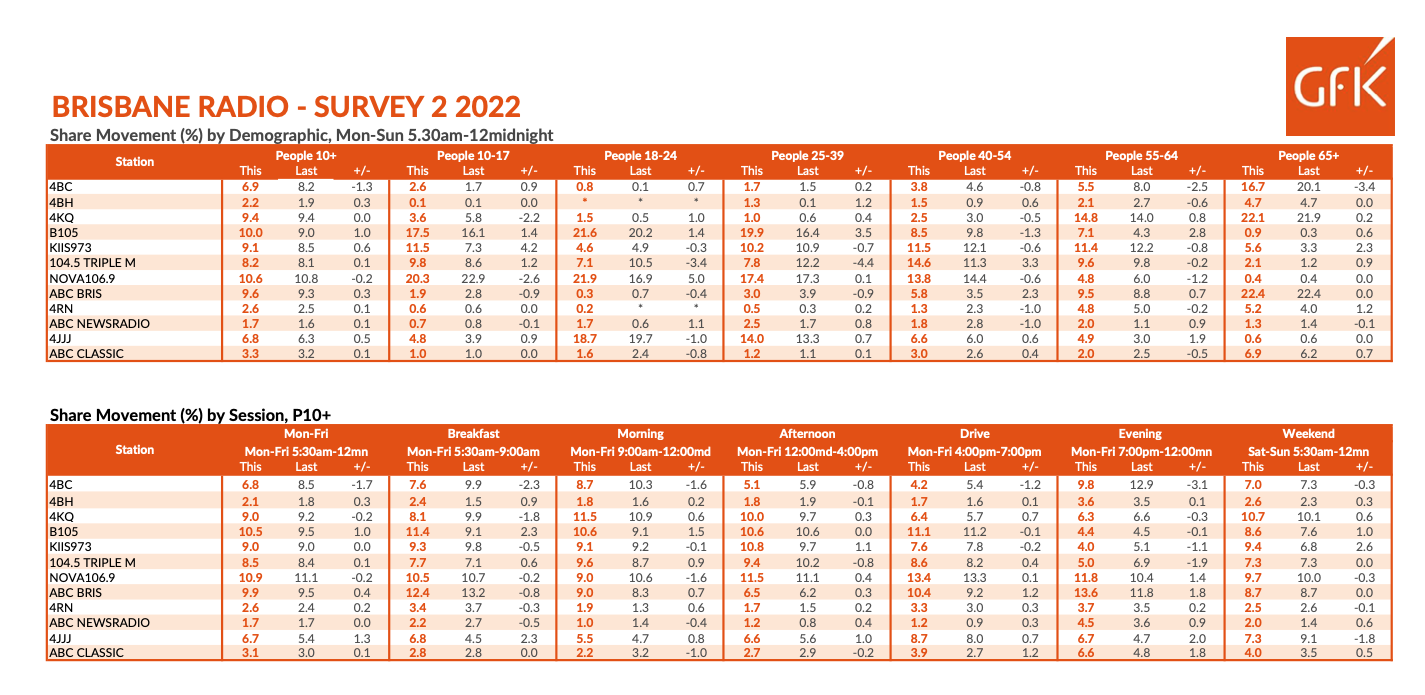 Adelaide
Nova had a huge rise, up 2.6 share points to 11.8% in equal first place
ABC Adelaide had the biggest fall, losing its umber one position, toppling 1.6 share points to 10.8%
FIVEaa and triple j also fell significantly
On DAB+, Edge Digital, now known as CADA, dropped in this market, while RnB Fridays increased
The top DAB+ station is Mix 80s, followed by Triple M Classic Rock and Double J
Mix and Nova shared the top position on 11.8% after Nova scored a big jump to move from fifth to equal first place
Second placed Cruise gained 0.7 to 11.3%
ABC Adelaide fell from first to third place, down 1.6 share points to 10.8%
ABC Adelaide won breakfast ahead of Nova
Demographics: Nova won 10-24s, SAFM won 25-39s, Triple M won 40-54s, Cruise won 55-64s and FIVEaa won the over 65s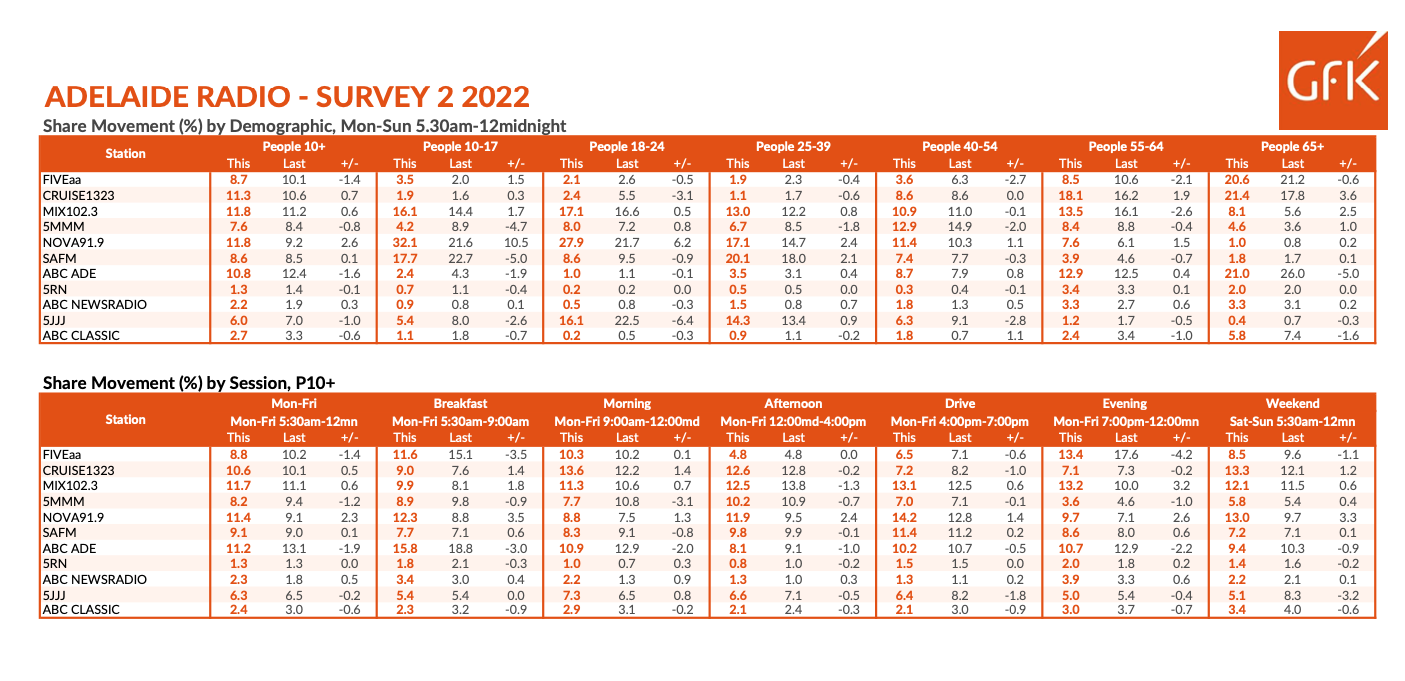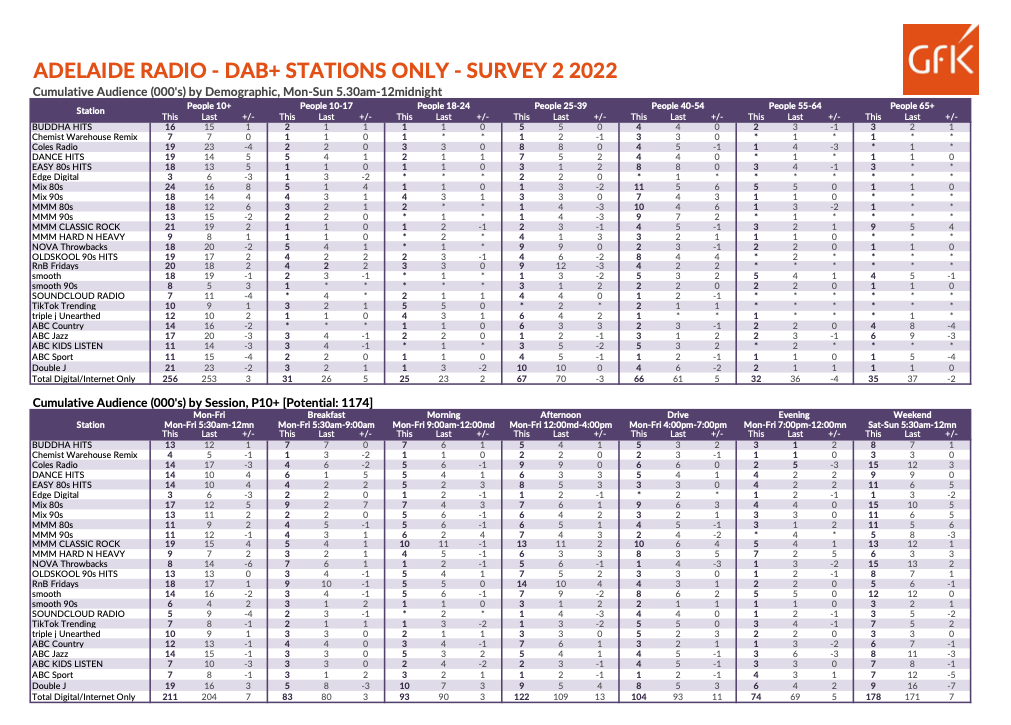 Perth
Nova gained 0.7 the biggest rise in this market, to grab first place with 13.9%
6IX had the biggest fall, down 1 share point to 5%. 6PR and triple j also fell.
On DAB+, Edge Digital, now known as CADA, increased its audience from a low base
The top DAB+ station is 96fm 80s, followed by Double J
Nova moved into top position on 13.9%, up 0.7, pushing 96fm into second place
Second placed 96fm gained 0.2 to 13.8%, a whisker away from Nova
Third placed Mix 94.5 gained 0.2 to score 12.4%
Nova won breakfast ahead of 96fm
Demographics: Nova won 10-39s, Mix won 40-54s, 96fm won 55-64s and ABC Perth won the over 65s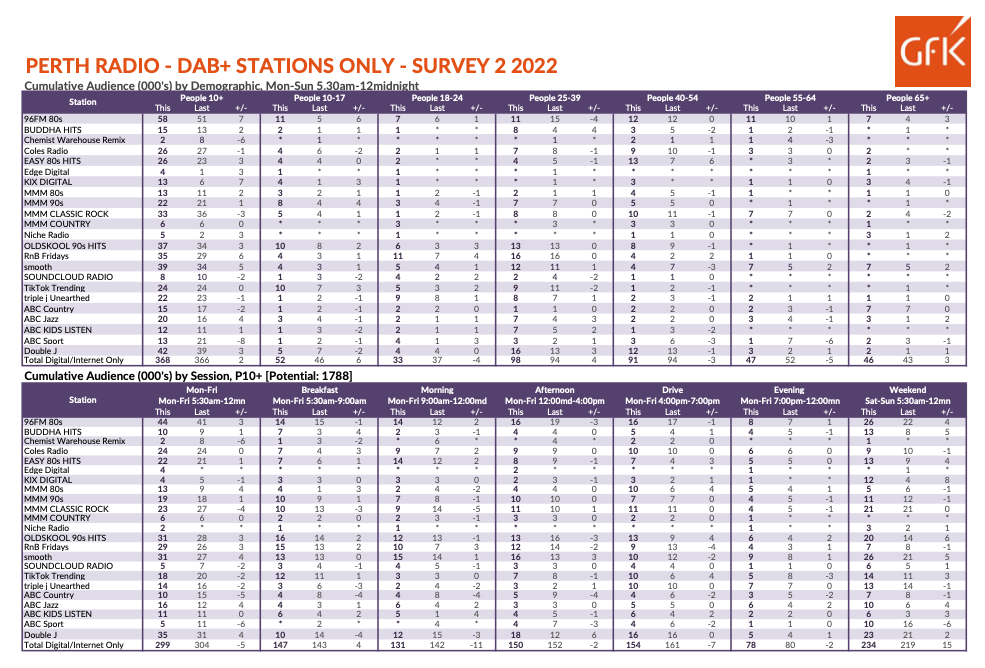 Charts
Sydney

Melbourne

Brisbane

Adelaide

Perth