Comment from Peter Saxon.
It's been quite a while since I've seen one of those "lazy Buggles headlines." as James Cridland likes to call them, where something or someone has killed the radio star. It seems radio's naysayers have given up.
Radio is far from dead. And while it may not be the music driven powerhouse it once was, radio's stars remain the lifeblood of the industry.
Some years ago, when Pandora and Spotify were the latest "mortal threat" to radio by equating themselves with "radio" itself, in an effort to steal its clothes.
In 2016 Spotify in conjunction with Holden even ran a series of outdoor ads suggesting listeners should dump their favourite radio breakfast show and listen to them instead.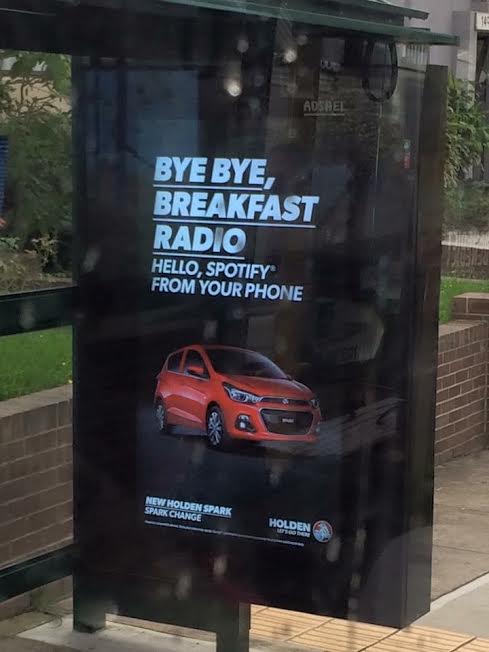 At the time, I wrote that 'like the French, who will not allow your "fizzy yellow cat's piss" to be called Champagne, unless it is from Champagne, radio should never have allowed these music streamers to usurp the name, "radio."
After Pandora (and by coincidence, Holden) had left the Australian market it was clear that consumers weren't buying the idea of streaming as a replacement for their favourite station.
For a while, "audio" was the latest "thing" and radio was to be relegated to a small corner of a much bigger industry.
Yet, as it turns out, the most successful audio companies, in Australia, are radio companies. After all, who knows audio better than radio people?
With ARN's iHeart, SCA's LiSTNR along with NOVA and the ABC strongly committed to an "audio" future that includes podcasting and streaming on any and all platforms, SCA CEO Grant Blackley has been floating the possibility that the company could one day be called LiSTNR, saying that this would be a natural progression if it came to pass, with all of the company's audio content available under the LiSTNR umbrella.
In case you hadn't noticed, earlier this month Commercial Radio Australia changed its identity from CRA to CRA, Commercial Radio & Audio. How convenient, if not auspicious, that the first two letters of Audio are the same as those in Australia.
To drive their point home, just last week, the freshly rebranded Commercial Radio & Audio (CRA) released figures from GfK Survey 5, showing that in amongst all the other noises competing for listeners, radio remains king (or sovereign for the pro-noun conscious) having added 900,000 of them YOY. The report says that the result was boosted by increased in-car listening and a surge in younger listeners.
To butcher a witticism of Mark Twain's: Reports of radio's death have been greatly exaggerated.
Peter Saxon – Managing Editor